Tennis Camp
Age 5-18 | Monday-Friday | Full Day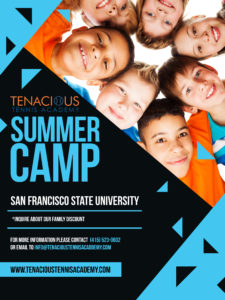 Appropriate for all ages and levels. Players are evaluated and grouped accordingly.
Personal attention is a priority; at least 1 coach for every 6 students.
All of our coaches are vaccinated and background screened.
Extended care is included in the camp fee; early drop-offs begin at 8:30 am and late pick-ups end at 5:00 pm.
Camp reservations can be paid for in installments; 50% up-front and 50% 2 weeks before the start of camp.
Family Discount Policy: families that register more than one sibling will receive 5% off the second and subsequent siblings.
SFSU cafeteria may not be open this summer. Please provide child with a packed lunch for full day camp attendance.
Campers Should Bring:
Signed and printed copies of medical waivers and hold harmless agreements
Water bottle
Hat
Sunscreen
Racquet (loaners available)
Snacks and lunch
Extended Care Camper Policy
Please inform camp counselors at sign-in if late pick-up is needed, after 4:00 pm.
Campers who will be staying past our 4 pick-ups for extended care will need to be signed-out by parents directly at the tennis courts, where they will be supervised until pick-up.
Parking can be found at the top of the hill and parents can walk down the access road to the tennis courts.
Tenacious Self Sign-Out Authorization Form
For campers who are 13 years or older and who will be signing themselves out of Tenacious camp, please complete and share the attached Tenacious Self Sign-Out Authorization Form.
Drop-off and Pick-Up Procedure
Our drop-off and pick-up location will be located on North State Drive, at the end of the road on the right-hand side.
Our coaches will be stationed at the drop-off location for morning drop-offs from 8:30 am – 9:00 am.
Pick-ups will be held at this same location at 4pm.
Cancellation Policy
Camps may be cancelled by Tenacious if there are fewer than 8 registrants. Parents will be notified if the camp session they registered for is to be cancelled.